Samurai Sudoku Competition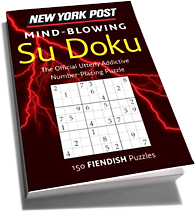 Win one of five copies of our electric New York Post Sudoku books!
In this week's competition there was a hard rated Samurai Sudoku to complete.
Courtesy of Times Book Shop, we have five copies of one of our recently released New York Post: Shocking, Electrifying and Mind Blowing books to give away! Each book has 150 or more Sudoku puzzles with various ratings from mild to super fiendish, all created by sudokugenerator.com.
The competition deadline has now passed. We will be announcing the winner shortly.
Please come back soon, as we will be starting a new competition!
For direct access to our Samurai Sudoku solver, simply signup for a full account now!
Latest Competition Result
The answer to the previous Samurai Sudoku competition was 6945.
Recent Winners
Recent winners for the New York Post and The Times Sudoku 7 books were:
Rekha Mittal from Meerut, Uttar Pradesh, India;
Isa Murdoch from Alicante, Spain;
Mohamed Diyaa from Riyadh, Saudi Arabia;
Riyana Rasheed from Bangalore, India;
Subhashini Selvaraj from Bangalore, India;
Vicky Ashok Shettykind from Mumbai, India;
Edward Cwirka from Shokan, NY, United States;
Reeta Bandyopadhyay from Hermitage, TN, United States.

The new year winners for the special prize: The Times 2014 Calendar were:
Sean Forbes from Crest Hill, IL, United States;
Maili Tannbaum from Rakvere, Estonia;
Indu Kumari Gupta from Bokaro Steel City, Jharkhand, India.
Recent winners for the The Times Fiendish Sudoku 2 and The Times Killer Sudoku 6 were:
Alauddin Patoary from Dhaka, Bangladesh;
Indu Kumari Gupta from Bokaro Steel City, Jharkhand, India;
Tan Hui Mun from Puchong, Selangor, Malaysia;
Murali Srinivasan from Bangalore, India;
Ahmed Nabil Mahmoud from Cairo, Egypt;
Indu Kumari from Jharkhand, India;
David Dowding from London, UK;
Mark Nichols from Rugby, UK;
Terence Stubbs from Nuneaton, UK;
Mare Soovik from V-Maarja, Estonia;
Ruth Ann Milbert from Hoquiam, WA, United States;
Leonid Kotlyarevsky from Brooklyn, NY, United States;
Yokila Arora from Faridabad, Haryana, India;
Ursula Bingham from Maidstone, Kent, UK.